4 Line Jacks Or Better Video Poker

More is better in the 4 line version of Jacks or Better Video Poker and there are no wild cards or special combinations which makes it a favourite amongst players. Jacks or Better Video Poker is a basic 5 card game with payouts for pairs of Jacks or better J, Q, K, A, 2 pair, 3 of a kind, straight, flush, full house, four of a kind, straight flush and Royal Flush. In this version gamblers will be playing 4 hands.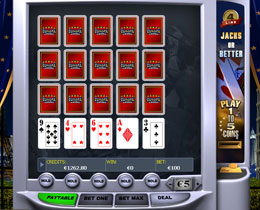 Players need to select the coin denomination and quantity they wish to bet on each hand. Gamblers can play as little as .05 per hand, which is 1 coin x .05, or as much as $25 per hand, which is 5 coins x $5. The payout for a Royal Flush on a minimum bet is 250 coins per line while the maximum will pay out 4000 coins. It's always best for players to play the maximum coins. In this game, the maximum coins of the lowest coin denomination would equal $1.
Players will be dealt 5 cards facing upwards from a deck of 52 cards which will be displayed on a four hand grid. All four hands display the same starting cards and the bottom line of cards is the gamblers playing hand. Players will hold or discard cards using this hand and may hold as many cards as they want to make up the highest paying combination. Each hand uses a separate 52 card deck and each hand holds the same cards as the bottom line hand. Players then to be dealt the remaining cards to complete each hand from the separate decks and the highest combination will be paid out on each hand.
Play 4 Line Jacks Or Better Poker at Winner Casino