Aces & Faces Poker Card Games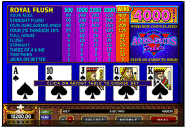 Aces & Faces is a standard video poker card game with extra high payouts for Four Aces or Face cards - Kings, Queens and Jacks.
Aces and Faces Power Poker is different from the standard Aces and Faces video poker as you play four identical hands of cards.
At the beginning of each game only the first hand is shown to you, while the other three hands remain face down. The game progresses like standard video poker.
When you choose to hold a card the identical card is revealed in the other three hands.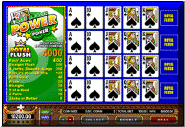 The most important poker skill.
How difficult is it to become a fairly good poker player? For some it's pretty difficult, for other it's downright impossible. It isn't easy for anybody. Despite the huge amount of useful information available on the game, it takes a long time and a lot of grinding for people who have the potential to become good players to achieve their goals. Even when one knows he/she is a good poker player, the learning never stops. Read More....