25 Line Aces and Faces Poker Card Games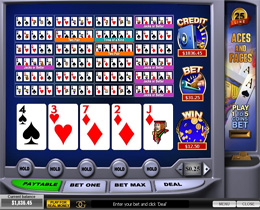 Players will be dealt 5 cards facing upwards from a deck of 52 cards, which will be displayed on a 25 hand grid. The bottom line of cards is the gamblers playing hand.
Players will hold or discard cards from this hand. They can hold as many cards as they want to make the highest paying combination.
Each hand uses a separate 52 card deck and each hand holds the same cards as the bottom line hand. Players can then draw to be dealt the remaining cards to complete each hand from the separate decks. The highest combination will be paid out on each hand.
Gamblers will be playing 25 lines in each hand and Aces and Faces begins its paying combinations on pairs of Faces such as J, Q, K and Aces. Four of a kind combinations are divided into 3 types consisting of four of a kind 2-10's, which pays out 125 on a maximum bet, four of a kind J-Q-K's, which pays out 200 on a maximum bet and four of a kind Aces pays out 400 on a maximum bet.
The ranking of the hands are pairs of J-Q-K-A, 2 pair, 3 of a kind, straight, flush, full house, four of a kind 2's - 10's, four of a kind J-Q-K, straight flush, four of a kind Aces and the highest is a Royal Flush.

Players then need to select the coin denomination and quantity they would like to bet on each hand. The lowest denomination for this game is .25 making the lowest possible bet $6.25. The highest denomination is $1 making the largest maximum bet $125.
The payout for a Royal Flush on a minimum bet is 500 coins while a maximum bet will pay out 4000 coins. Players should opt for the maximum bet of 5 coins as the payouts is very rewarding.
Play 25 Line Aces and Faces Poker at Casino Kingdom | Casino Classic or Lucky 247 Casino