Caribbean Stud Poker Rules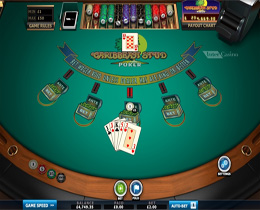 Caribbean Stud is played against the dealer using one standard deck of 52 playing cards per hand. Players need to wager an ante bet to start the game. Wagers range from $1 up to $250. Players will be dealt 5 cards once the wager has been placed, and then they have to decide whether to Fold or Raise.
Should a player decide to Fold, all prior wagers that were placed will be forfeited. If the player decides to Raise, then the dealer will be dealt his hand. In order for the player to qualify for this round, the dealer has to have an Ace or King in his hand. If the dealer does not have either of these two playing cards, then the player will only win his ante.

Should the dealer have either an Ace or King in his hand, and the players hand beats his, then the player will be paid out according to the pay out table. If the player has a top hand he will stand a chance of winning $200,000.
If it turns out that both the dealer and player have the exact hand, then this is called a Push and both the ante and raise wagers will be returned. This version of Caribbean Stud Poker does not allow side bets, but the pay outs are bigger than the majority of online casinos.
Play Caribbean Stud Poker at :Prime Casino| Golden Tiger Casino