10 Line Jacks or Better Poker Card Games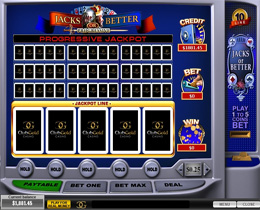 10 Line Jacks or Better is a video poker game where ten hands are played and it excludes distinct combinations as well as the wild cards.
It is a standard five card game whereby pairs of Jacks or better, J, Q, K, A, 3 of a kind, 2 pairs, flush, straights, four of a kind, full house, and a royal flush result in great pay outs.

10 Line Jacks or Better is comprised of the initial hand which appears at the bottom of the screen which is also known as the "decision hand".
This includes the nine other hands that appear above it, which make up the total of ten hands.
From a standard deck of 52 cards, players are dealt 5 cards which appear at the bottom of the card grid.
The remaining nine hands above that shows five cards, each facing down. Players are then given the opportunity to "hold" or "discard" cards in order try get the highest winning hand from the initial five cards the player starts with.
Every hand the player has is dealt from a new deck of 52 playing cards and each hand includes the 'held' cards within the "decision hand".

Players are then dealt the rest of the cards in order to complete each of their hands from the separate new decks and the best combination is paid out for each hand.
We have listed just a few online casinos that offer 10 Line Jacks or Better Video Poker, but most casinos have it in their game suite under Video Poker Games.