Pai Gow Poker Card Games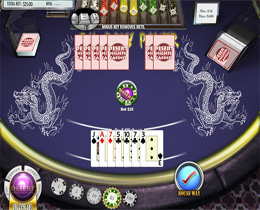 Pai Gow Poker is played using a deck of 53 playing cards including a joker.
It is a relaxing game where you don't have to spend a lot of money, and the object is to beat both of the dealer's hands.
Most often you will find that the Pai Gow Poker Games are the most popular games at Macau and Las Vegas Casinos, and there is always a crowd gathered around a Pai Gow Poker table.
Poker Games like Pai Gow and Caribbean Stud Poker are particularly popular in Asian countries like Japan.

To start 7 cards are dealt, and from here you make your strongest 5 card hand and your second strongest 2 card hand.
The game is considered a push if you only beat the high hand.
The joker can be used to complete any flush or straight and can also act as a substitute in the place of a straight flush. If you can't use your joker in one of these ways the joker acts as an ace.

Players pick their highest second hand by clicking on the two cards they want to use, if players click on more it will automatically pick the second best out of the cards.
This is good if players have no idea what they're doing as players can just click all their cards and it will pick them for you.

Players have the option to bet the minimum of $1 or the maximum of $250.