Mega Jacks Progressive Poker Card Games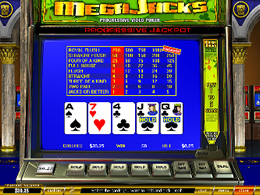 Mega Jacks from Playtech is a video poker game linked to Playtech's famous Progressive Jackpot.
It is a straight poker game with pay outs starting on a pair of Jacks going through the different winning hands to the elusive Royal Flush.
It is played with the player getting dealt 5 cards face up and then discarding or keeping them, making up your betting hand.

Coin values are restricted to $0.25 and you can bet between one and five coins. Keep your eye on the value of the Progressive Jackpot displayed at the top of the screen and remember that to win this you must bet five coins.

There is also a gamble feature where you can double your win or lose it completely. You must have a winning hand to play and you are dealt 5 cards face down and you pick one of them.
You win when this is higher than the dealer's card but if it is lower you sacrifice your winnings. Mega Jacks is uncomplicated and straight forward and will definitely have a lot of appeal to those who enjoy poker.
Mega Jacks Progressive Poker often gets into some big numbers, but yet still gets won quite regularly! May Playtech Casinos list their Winners on their sites and we often see Mega Jacks Progressive Poker listed as the game that was won on.
Please rememebr that in order to win the Progressive Jackpot, the Player must be playing 5 coins to have all 5 rows lit up.
Play Mega Jacks Progressive Poker at the Following Online Casinos:
Casino.com | Omni Casino and Winner Casino